Last fall, many of you took time to complete our annual patient satisfaction survey.  Based on your feedback, we learned: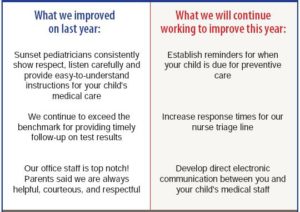 We received many compliments and suggestions for improvement.  We've acted on a few that we would like to share with you:
"Please set up online scheduling.  The only improvement to your office is the ability to schedule appointments online."
This year, flu shots can be scheduled online through our patient portal. Patients log in to the portal, view available times and select what works best for their schedule!
"It would be super helpful to have reminder calls when it is time to schedule a well child check.  As parents, we often lose track of when those things are actually due to happen."
Our staff now does outreach before every patient is due for their annual well child check.  Parents will receive a call from a member of our staff to schedule these important visits.
Starting October 1st of this year, families will receive an email invitation to complete this survey again.  Here at Sunset, we really value your opinion and appreciate honest feedback.  We want to continue to provide our families with the best care possible and your feedback really helps us to do that.
All families that complete a survey will be entered to win an Applie IPad 32GB or a $100 Target gift card drawn on November 15th.