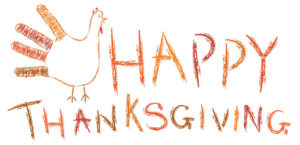 Many kids love to be involved in Thanksgiving preparations.  To keep this holiday happy and accident free, check out these safety tips:
Added little hands in the kitchen can lead to an increased risk for burns and other accidents. Have activities that keep kids out of the kitchen during this busy time.
Bacteria are often present in raw foods.  Fully cook meats and poultry, and thoroughly wash raw vegetables and fruits.
Keep hot liquids and food away from the edges of counters and tables, where they can be easily knocked over by a young child's exploring hands.
Closely supervise children at all times. No child should be left alone in the kitchen, or be allowed to use the stove, oven or appliances.
Clean up immediately after a holiday party. A toddler could rise early and choke on leftover food or come in contact with alcohol or tobacco.
Traveling, visiting family members, shopping, etc., can all increase your child's stress levels. Trying to stick to your child's usual routines, including sleep schedules and timing of naps, can help you and your child enjoy the holidays and reduce stress.
We hope you have a wonderful Thanksgiving filled with family, friends, turkey and treats! We are thankful for you!
Sunset will be closed Thursday, November 23rd in observance of Thanksgiving.  We are available 24/7 by phone, regardless of holidays.  Call our main phone-line at 503-296-7800 where you will be connected to our answering service and be able to speak with a triage nurse or the on-call physician.
Information from the AAP