Fall celebrations like Halloween are fun times for children, who can dress up in costumes, enjoy parties and eat yummy treats.  These celebrations also provide a chance to give out healthy snacks, get physical activity and focus on safety.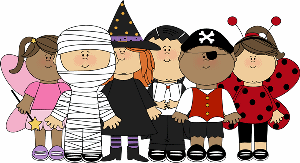 While fun for everyone, Halloween poses special safety risks.  Did you know that children are twice as likely to be run over by an automobile on Halloween than on any other night of the year?  To help you prepare for the festivities, check out the following Halloween safety tips from the CDC and AAP:
Walk Safely
Cross the street at corners, using traffic signals and crosswalks.
Put electronic devices down and keep heads up and walk, don't run, across the street.
Trick or Treat with an Adult
Walk in groups or with a trusted adult.
Only go to homes with a porch light on and never enter a home or car for a treat.
Review with children how to call 9-1-1 if they ever have an emergency or become lost.
Keep Costumes Both Creative and Safe
Decorate costumes and bags with reflective tape or stickers.
Choose face paint or makeup whenever possible instead of masks, which can obstruct a child's vision.
Have kids carry glow sticks or flashlights to help them see and be seen by drivers.
Healthy Halloween
Examine all treats for choking hazards and tampering before eating them.
Avoid eating homemade treats made by strangers.
Try to ration treats for the days and weeks following Halloween.
Drive Extra Safely on Halloween
Slow down and be especially alert in residential neighborhoods.
Take extra time to look for kids at intersections, on medians and on curbs.
Eliminate any distractions inside your car.
Popular trick-or-treating hours are 5:30PM to 9:30PM so be especially alert for kids during those hours.